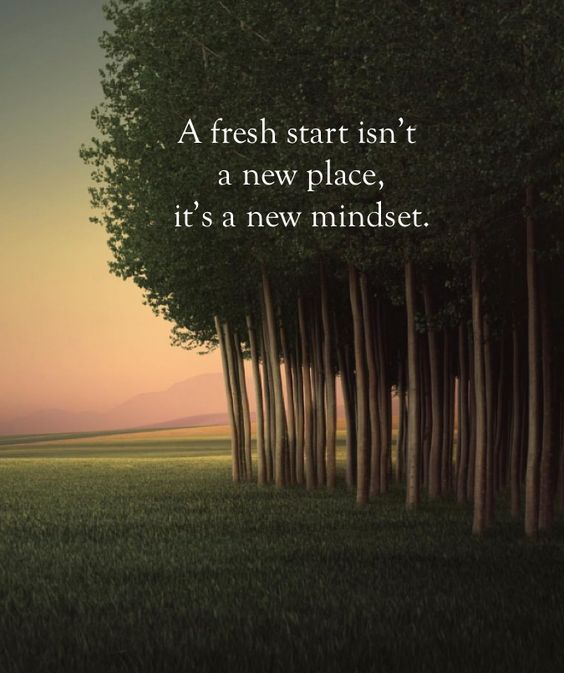 Often people think having a fresh start means making drastic changes like quitting a job or moving to a new town. In the choice to move or quit they see an easy way to escape their problems. Unfortunately, those problems often follow, and in time they pop back up, sometimes even worse than before. Truly accomplishing a fresh start means tackling the problems head on and then, if needed to heal, a move may be necessary. The key is actually taking action towards the problem first, instead of running away from it, sweeping it under the rug, or just hoping it all goes away if you get far enough away from it.
I made some big moves this year and I had to be honest with myself recently with some of the choices I have made. I started a new relationship, took a new job, sold my house and returned to my very small home town that I left over 20 years ago. To say it has taken some adjusting to the change is an understatement. There are pros and cons to every decision we make in life and it is wise to assess those very carefully beforehand. My choice to move and start a new job did feel like a choice to make a fresh start but in that choice I also had to mentally and emotionally make peace with my choice. If you are not making peace with the past and accepting where you are in the present moment, then you will most likely be dragging a lot of the same issues with you to the future. No matter what big changes you make in an attempt to get that fresh start, it is most important to mentally prepare.
I have been on many little trips over the years and often found myself having conversations about how I would love to find a little place near water and live the simple life. I often dreamed of this when I would stay at a nice cabin for the weekend in places like Gatlinburg Tennessee or a cottage near the beach in Panama City Beach Florida or San Diego California. I even imagined what it would be like to have a small apartment in Manhattan New York when I visited. I knew I wanted a change and always thought it would be someplace new and very different from any place I had lived before. I found myself continually looking at little cabins or farmhouses the most and the dream begin to unfold more over the years. I knew I enjoyed more of the freshwater access with kayaking, fishing, swimming, and areas to hike. For some reason I never seriously considered returning to my hometown until this year.
It was the logical choice, to be closer to my parents as they are now in their late seventies. My brother is far away in the big land of Texas and still raising small children, my daughter is living on her own, in college, and engaged to be married. So I was in a better position to move closer and be around to care for my parents when the time comes. My small town also has a beautiful river that runs right through the middle of it, with ample access to boating, floating, fishing, canoeing, kayaking, hiking, and camping. I had roots here and all the things I traveled and dreamed of along with a job opening in the local Family Clinic where I could give back to the small community I grew up in. The decision to move to the actual process of making it all happen has taken less than 6 months and as of the first of the year everything will be complete. I will have moved, sold my house, and be a licensed therapist in the small clinic of the town I could not wait to leave more than 20 years ago!
This is my fresh start, where I will probably retire and live out the rest of my days. I will still travel and dream of other places but this is home for me, at least as long as my parents are still here. My fresh start is literally where it all initially started for me, kind of ironic. I have made peace with the longer drive to the grocery store and missing other conveniences of living in a bigger town. I think it was well worth the trade off to live out in the country with no neighbors visible from my porch. Where I can start a hike right from own driveway. Drive 15 minutes and drop my kayak in the water. Pay attention to where your mind takes you when you are dreaming of the future, life has a way of bringing things full circle. It is possible your fresh start has been right in front of you all along.
With love, health, and happiness
Stacy