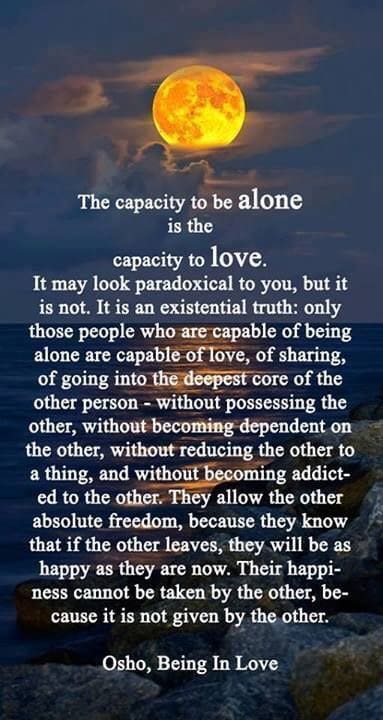 I used to think loving someone was pretty much a black or white thing. Either you loved them or you didn't. I hated to hear people say, I love you but I am not in love with you. I understood there was love of family, love of friends, and then romantic love, but I didn't really believe romantic love could also have different levels. Over time, after one marriage and two long term relationships, I realize the level of love or the ability of love one is able to give can grow exponentially over time. I believe, along with life experiences, knowledge and growth within ourselves, and learning to love who we truly are can give us the ability to love differently in each relationship we choose.
I had young love when I married young and had my daughter. Then I had another level of love in the next relationship that felt deeper and after a few years I found another love that changed me over time. I know that I was still learning and growing and those relationships could not or would not grow with me for one reason or another and they ended. Now I have been out of my last long term relationship for a year. I have dated but as many of us do, I tried to be more open minded like my friends suggested and dated guys that I would not typically choose. I quickly realized I should probably listen less to my friends, as helpful as they were trying to be, and just do what feels right for me.
At this point in life I feel that I am on the right track with what I want in life and have a good idea of the type of man I can see myself with. Looking back I can see how the things I once desired in a relationship have changed and I am thankful for the experiences I have had that have helped me gain clarity. Priorities often change with age. Our ability to love is based on so many things and sometimes people can really love you but their capacity to love is limited….this could be for many reasons. Abuse, maturity level, inability to heal from a past heartbreak, childhood trauma, lack of experience or understanding, emotional immaturity, lacking communication and/or social skills…all of these things can be factors that affect a persons capacity to love.
I have cleared the decks and removed all interested from my past and present to center on one man who seems to be many of the things I desire, but it takes time to know for sure. I have rushed into things before full of hope and I have learned that it never turns out good. So I will be patient, listen, observe, and see how he treats me, does he make time for me, does his actions match his words? Is he respectful, is he trying to communicate and show emotional maturity, can he apologize and admit when he is wrong and commit to doing better? Does he make me laugh and smile? Is he supportive of my hopes and dreams and does he openly share with me his own? Does he think of me in his busy day and let me know I am on his mind and does he ask about me and my day? These are things that most women would say they desire in a relationship and they seem pretty simple, but it is amazing to me how often they are missing from the beginning and we make excuses or exceptions for them.
It is important to understand where a persons capacity for love is and if it is a match for you. The truth is, most women naturally have a higher capacity for love than men, so keep that in mind. We are nurturers and even chemically connect once a sexual encounter has occurred. Men are not wired the same, connection for them happens differently. Slow movers are not necessarily a bad thing. Sexual chemistry is great and necessary but in order to have a truly fulfilling and lasting relationship it must go deeper. Today adults have so much to navigate, so understanding busy work schedules, shared custody of children, going back to college schedules and study time for a higher degree, taking care of a home and any pets, time for self-care and health, family and friends….by the time you factor all of those things in to a new relationship it leaves very little time to get to know someone. So often late night phone calls or texting can happen, but you don't want this to become the basis of communication (especially texting). The patterns you set in the beginning will be hard to break if the relationship begins to grow.
The desire to find a loving partner is often stated, but the desire to work for a good relationship is where many fail. Love does not come easy, it is a choice to love someone and the effort you are willing to put in says a lot about your capacity to love. Get your priorities straight and make room for that relationship if it is something you truly desire. Love, family, career, and home are what many find most important in life, which areas could you be putting more effort into? Are you making time to nurture a new relationship and learn and grow or are you just going through the motions? Be honest with yourself on what you want and the effort you are willing to put in, know your capacity to love.
With love, health, and happiness,
Stacy