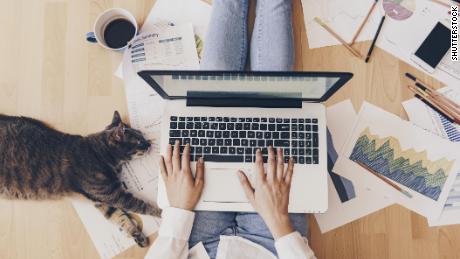 Soooo I took my 3 days of Spring Break last week even though I didn't fly to Chicago like I had planned.  Instead I worked from home a bit and enjoyed time being lazy and eating and drinking with the new guy in my life.  By Saturday I realized that maybe this stay at home thing was possibly a downward spiral of pajamas, day drinking, endless Netflix and overeating and I needed a self-check.  I drove home from my boyfriends house and thought about how I was going to navigate coming back to the office this week and what the future may hold.
Monday morning it was clear that this week would be the week we all get set-up for Telemedicine and make the final transition to all of us working from home.  I have always wanted to work from home and thought this would be super productive and then I thought of my few days off just the previous week.  Yes, that was supposed to be a bit of a vacation but I also know it was super easy to sleep in, snack, and stay in my pajamas all day cuddling with my guy.  I realized that was not the pattern I wanted to get stuck in if I was going to be working from home for a month or more.
I want to make this time at home work in my favor and if I plan to do that and be a productive individual I would still have to have a schedule.  I could sleep in a bit more because I would not have my commute but it also opens the opportunity to have more time to exercise, meditate, and make myself a healthy breakfast, do some laundry, organize closets and still check emails, make calls, and do my billing and coding for insurance claims.   It is vital that I create a routine from the start so that I do adopt bad habits in my daily routine.
This week, as I finalize things at my office to transition to working from home, I am also creating a schedule for my days at home and my plan is to really make this time work in my favor.  I have learned from my research of others who have worked from home for years that it is so important to still have a regular wake-up time and lunch time, and close the office door time.  As I create my new schedule for home I hope to find balance and still be productive while enjoying this opportunity to build discipline and structure for when I do have my own practice.  Project number one, make my guest room into a home office!  How are you navigating changes?
With peace, love, happiness and healthy vibes to all,
Stacy